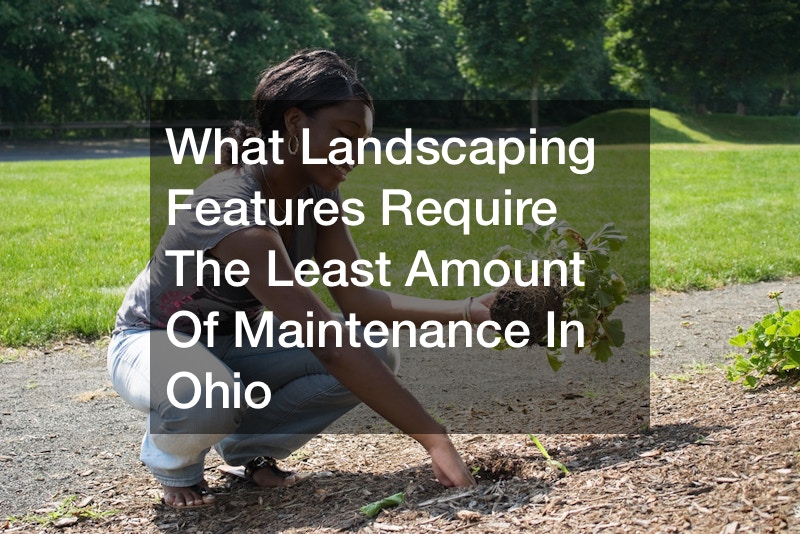 What Landscaping Features Require The Least Amount Of Maintenance In Ohio?
Many homeowners dream of a gorgeously landscaped lawn that takes care of itself. Any yard requires a little maintenance, such as mowing, but you can use methods such as landscaping with native plants, xeriscaping, and using hardscapes to create a lush landscape that requires little work to maintain. Let's explore some landscaping ideas Ohio homeowners can use to create a lovely, low-maintenance lawn.
Landscaping with Native Trees in Ohio
Yards don't need exotic plants to feature amazing landscaping. Choosing plants and trees that naturally thrive in Ohio results in less maintenance work for you. The trees native to Ohio brought it a reputation as an area of breathtaking fall colors, so your yard will still sparkle if you plant Chestnut Oak, American Beech, Kentucky Coffeetree, or Yellow Poplar. Add color at other times of the year by planting yellow buckeye or Ohio buckeye.
Many homeowners dream of owning a small orchard. The state's soil and climate offer ideal conditions for certain trees, so let's explore some landscaping ideas Ohio homeowners can implement to create a native tree orchard. A member of the ebony tree family, persimmon trees call Ohio home. So does the black cherry tree, a member of the rose family. Mulberry trees also grow naturally in Ohio, but plant red mulberry if you want to eat them. Osage orange mulberry trees produce inedible fruit. Plant elderberry for a tasty treat and gorgeous planting.
Members of the maple and walnut tree families grow natively in Ohio. Planting any of the four maple trees native to Ohio – boxelder, red, silver, or sugar maple – results in a grove of trees you can extract sap from it to make maple syrup. If you love nuts, plant butternut or black walnut trees to enjoy edible nuts from a tree native to Ohio.
Landscaping with Native Plants in Ohio
The state offers a multitude of colorful native plants, especially flowers, that grow well in its soils. Regardless of your favorite color, these native plants offer ideal options for landscaping ideas Ohio gardeners will love.
Yellow
To create a perennial garden plot filled with sunny yellow, try planting Ohio goldenrod, a member of the Asteraceae family, or yellow trout lily. The latter grow for four to seven years before flowering. Wood poppies offer two months of bright yellow blooms, but the plant also offers tea leaves. The prolific grower black-eyed Susan offers a drought-hearty yard brightener that requires little maintenance.
Orange
Create a blossom-filled plot of butterfly weed for a splash of orange in your garden. The plant gets its name from its ability to attract butterflies and moths to its flowers.
Red
The crimson red of the cardinal flower helps attract hummingbirds to yards everywhere it gets planted. Its assertive pop of color perks up any landscape.
Blue
Blue flag actually provides something for those who adore blue and those who love purple. Its blue-violet blossoms grow wild in swamps and near streams. Ideal for edging a pond or small lake, it provides flowers in spring and summer. Although inedible, it offers a terrific potpourri ingredient.
Purple
Planting violet wood sorrel provides your landscape with elegant purple flowers that combine a light lavender on the outer petal areas and streaks of burgundy in the center of each petal. Also called sour grass, shamrock, or sour trefoil, the state named this lovely wildflower threatened/endangered. Planting it can help it survive and thrive in its native Ohio.
Plant giant ironweed, a common sight in woodlands and meadows throughout Ohio, for dark purple flowers that top the tall weed that can grow up to eight feet in height. It blooms in summer and fall, offering two seasons of color. Due to its tall nature, it works well along backyard fences and stone walls.
Pink
Pale pink wild bergamot looks regal in any garden, smells fragrant in potpourri, and makes a tasty tea. Pair it with the similarly colored Joe Pye weed, which smells like vanilla. Plant bee balm to create a pop of color, since its hot pink blooms will contrast with the paler bergamot and Joe Pye blossoms. Bee balm resists mildew and deer dislike it, while hummingbirds and bees love it.
Green
The native Ohio plant bracken fern, also called eagle fern, grows in dense colonies, making it perfect as ground cover or climbing a trellis. It can reach a height of three feet, and its triangular fronds add a unique characteristic to it that differentiates it from other garden plants.
White
Wild geranium appears white from a distance, yet careful study at close range shows its lavender or pale pink hues within the white petals. When shopping at plant nurseries for this flower, ask for varieties with scented leaves that naturally repel wasps and mosquitos. Pair it with drought-tolerant white wood aster, a favorite of butterflies that can grow well in poor soils with only partial sun.
Since a variety of plant heights adds interest to a garden, also consider adding white snakeroot, which can grow to heights of nearly 4.9 feet. Also called richweed or white sanicle, its flower heads grow large, with blooms of two to six inches wide. Try meadow anemone for bold white spring and summer flowers with a mid-range height, which ranges from eight to 31 inches.
How To Automate Lawn Maintenance
Automating lawn maintenance doesn't require fancy gadgets for watering the lawn, but irrigation or sprinklers can make things simpler. You also don't have to hire a landscaping crew, although the services of a landscape architect from a landscape design company can come in handy when creating the initial plan for your home's yards. That says 'yards' plural because each home typically has a front yard, a backyard, and two typically skinny side yards. All four of them contribute to the curb appeal of your home and deserve unique and creative landscaping ideas Ohio families can enjoy.
Let's examine some landscaping ideas Ohio homeowners can use to automate lawn care and to reduce the work needed to maintain a beautiful home. Use just one, or put them all to work for you.
Reduce the size of your lawn's open space. Instead of a vast expanse of green grass, create an outdoor living space with multiple interest areas.
Plant ground cover areas or replace the lawn's grass with a ground cover plant like creeping phlox. It requires minute amounts of water and grows quickly.
Create a garden for pollinators. Bees and hummingbirds love many native Ohio plants. Create a dedicated space in your yard for growing these plants and edge it with a sitting wall or picket fencing.
Add vertical dimension by grouping a few boulders of various sizes in one area of the yard. Plant perennial native vegetation around them.
Create variation in the yard by adding water features. In the back or front yard, this might refer to a pond or reflecting pool. A side yard might feature a fountain or small waterfall.
Construct hardscapes in the landscape for traversing from one area to another and for enjoying the yard. A patio, gazebo, or deck offers an outdoor dining area.
Create an outdoor kitchen, so you can prepare meals on or near the patio. Include a cooktop, barbecue grill, and a sink, plus a food preparation area.
Use multiple levels of yard lighting to create an inviting nightscape. Hang some lights, such as Japanese lanterns or solar string lights. Install freestanding park lights and use ground lighting that stakes into the grass and dirt.
While most people think of landscaping as grass, trees, shrubs, and flowers, it extends to every aspect of outdoor space. Planning a landscaping project requires an in-depth look into the hardscapes you'll use in your front, back, and side yards.
Reducing the lawn area creates a smaller area to water, but you can use an irrigation hose to quickly water the garden areas. Installing an irrigation system, such as sprinklers, that automates lawn watering can automate the process for you and help to easily care for a large lawn. Local lawn sprinkler services can install these for you and set up the schedule in accordance with the watering needs of your plantings.
Hardscaping Your Ohio Lawn
Hardscaping a few areas in your yard tops the list of landscaping ideas Ohio homeowners can use to reduce yard maintenance. Stone features look great in any yard and require no maintenance. Hardscapes refer to more than just your driveway and patio. The backyard gazebo, deck around the swimming pool, fence, garden wall, etc. all contribute to your hardscape, too.
Garden pavers offer visual interest, since you can configure them in differing directions within a sidewalk or other walkway. Paved areas reduce the amount you need to mow.
Use hardscapes, such as retaining walls, to reduce erosion. These low walls can divide portions of the yard and support bluffs or dunes along the lake.
Hardscaping your lawns can control the land you own and help preserve it. Rather than lose color, use colored pebbles instead of mulch. Green pebbles maintain the lawn color scheme but require zero maintenance. Weeds don't grow in hardscape areas, so you reduce your weeding by doing this.
Landscaping Ideas Ohio Homeowners Can Use Anywhere
This article presents many ideas for Ohioans to consider for their landscaping needs. Which options will work in any Ohio yard?
Hardscapes work anywhere. Regardless of soil type, existing ground cover, drainage, or available sunlight, you can use hardscapes in any yard. Rock, wood, cement, seashells, pebbles, natural stone, and metal all qualify as a hardscape. This opens up the number of materials and ideas for your design.
Removing portions of the landscape numbers among the landscaping ideas Ohio homeowners might not read often. Remove the unhealthy parts of the yard before starting any other part of the lawn project. Call in a tree service expert to determine if any sick trees need removal. An arborist can sometimes treat a tree to save it, but some situations require a tree removal company. While you clear out the unsalvageable trees, also hire the services of a local tree stump removal service to uproot and remove any tree stumps. Start with a clear yard that's ready for planting.
Because Ohio began as a forest, nearly any of its native trees can grow anywhere within the state. At the time European settlers arrived, trees covered 95 percent of the state. Today's Ohio looks very different, but you can help change that and restore some of its natural beauty by planting native trees.
But what about Ohio's native flowers?
Choosing the Right Landscaping Ideas for Your Ohio Yard
Ohio's flowers get a bit picky about where they grow. Some, like blue flag, need a swamp setting because they depend on moisture. Others require shade, so the yard needs existing mature trees to provide shade.
A local landscape designer or landscape architect performs a comprehensive site analysis to evaluate the specifics of your yard regarding its vegetation, drainage, available sunlight and shade, and soil characteristics. If your yard contains poor soils, you don't have to writeoff having a gorgeous garden. You can plant raised beds or a container garden among your hardscaped areas.
Your landscape architect creates a conceptual design based on your likes and dislikes, configuring the yard's features based on the site analysis. They combine your favorite plants and colors with tried-and-true landscaping ideas Ohio homeowners can count on for lush lawns. The resulting design typically features a lawn area, hardscapes, garden beds, and water features.
To truly reduce maintenance, you can have the landscape architect or local landscapers plant the flowers, trees, shrubs, and install the hardscape areas. This saves you from needing to rent or purchase equipment such as an electric lawn spreader. Most landscaping companies also offer maintenance plans.
Using these landscaping ideas Ohio residents can transform their lawns into personal outdoor living areas. Each home can contain a yard with its own small forest area, gardens, waterway, and outdoor kitchen. Put your yard to work for your home with these ideas.